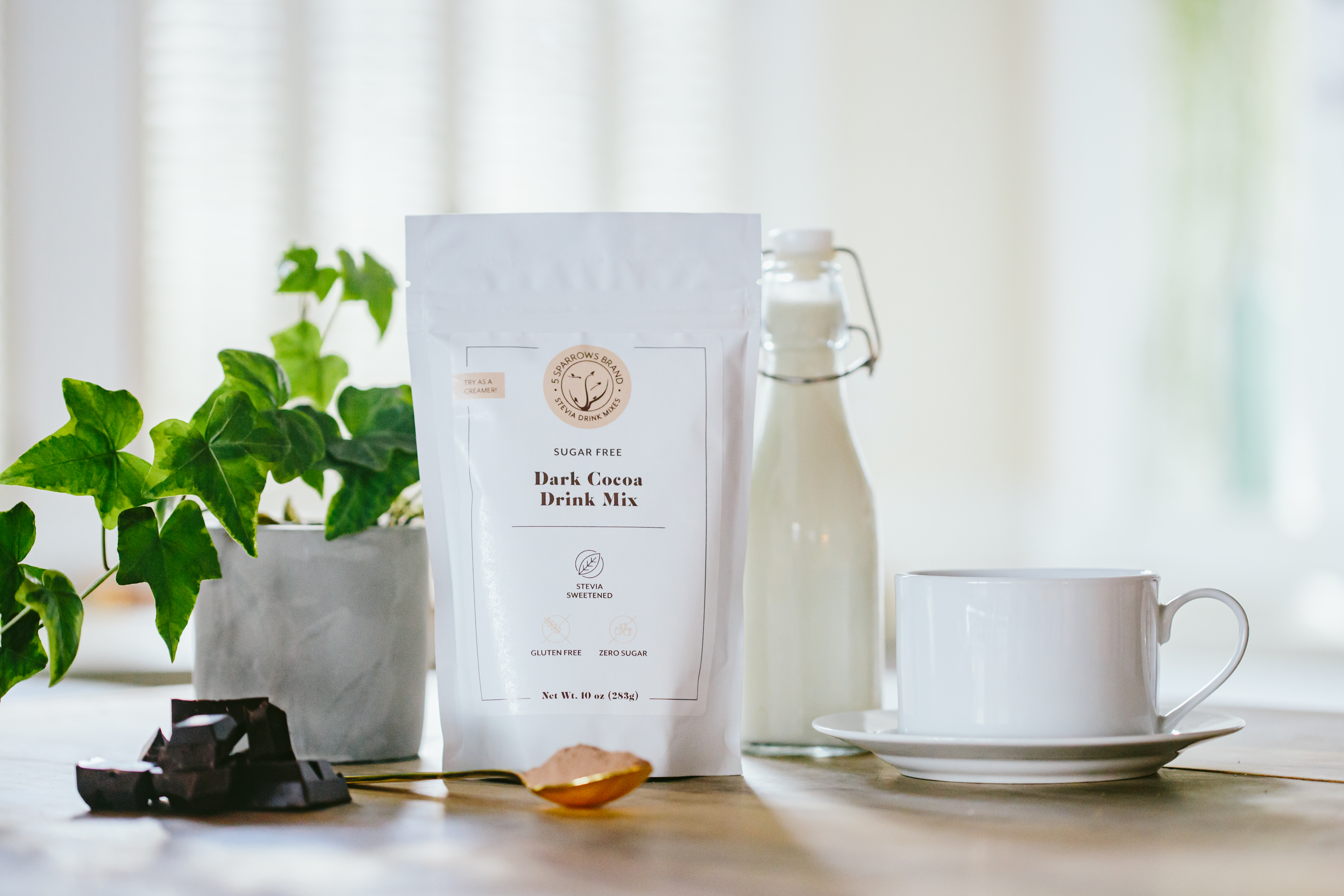 Why We Think You'll Fall in Love With 5 Sparrows Brand Sugar-Free Hot Chocolate!
It's winter. It's still chilly here in Montana and across the country. And lots of us are looking for ways to stay warm and create a bit of comfort every day.
Lucky for us - that's where 5 Sparrows Hot Chocolate comes in. And News Flash! Hot chocolate isn't just for "kids" anymore! Did you know you can also add it to your coffee to use as a coffee creamer?
Comforting, cozy, tasty, and completely sugar-free, so it's diabetic and diet-friendly, our delicious hot chocolate mix is, quite simply, a "cup" above the rest (see what we did there?).
What Sets 5 Sparrows Apart
Why choose 5 Sparrows Brand Hot Chocolate? Here are a few things you won't find anywhere else:
Texture
We've all experienced it: you're freezing or in need of a pick-me-up, and you reach for a pack of instant cocoa in a pinch. When you mix it into your cup, though, it clumps up, forming a lumpy, chunky, icky soup.
No fun, right?
What lots of people don't know is that clumping happens because most cocoa powder is full of starch. When you hydrate starch, it expands, forming that lumpy concoction we've all experienced.
Don't worry, though. You won't find that at 5 Sparrows. We don't want to toot our own horn or anything, but our hot cocoa mix goes in like silk and tastes like heaven. It has no gluten and no sugar, so it dissolves easily and doesn't clump up in your cup. No brag.
Taste
If you've been on the sugar-free bandwagon for a while, you know that pretty much all sugar-free options just taste weird. And that's because most of them are souped-up with all sorts of artificial sweeteners that basically amount to melted plastic.
Say it with us: nobody wants that.
Until recently, though, there haven't been a lot of other options out there. Fortunately for you, your taste buds, your health goals, and all things that are good and decent in the world - we fixed it. Instead of using aspartame or another gross artificial sweetener in our products, we sweeten everything naturally, with Stevia.
A natural extract occurring in the Stevia plant, Stevia is sugar-free, Keto, and diabetic-friendly. It's a win-win for everyone right? Not so fast. Stevia is a potent sweetener that must be treated with the utmost respect and care, or it can cause your final product to have a strong, off-putting flavor. Fortunately, we have a secret weapon here at 5 Sparrows Brand that will ensure you don't experience the after taste some think of when they hear the word "Stevia". More on this later.*


Variety is the spice of life
One of our favorite uses of the Dark Chocolate Mix (this makes our hearts so happy) is that it not only makes a delicious sugar-free hot cocoa . . . it can also be used as a Coffee Creamer, and ALSO in your favorite drink & baking recipes where chocolate is an important ingredient (see some kitchen-tested recipes on our website). And frankly, who wouldn't love to add a little sugar-free chocolate flavor to their hot or iced coffee drinks?
In addition to our dark chocolate mix, we also make a bunch of other delicious products you can use in or alongside your sugar-free hot chocolate. Get creative with a black-and-white mocha (our sugar-free chocolate mixed with a bit of our sugar-free white chocolate and your favorite coffee) for a little variety!
Our Proprietary Blend
At first sip, once you've had one hot chocolate drink, they're kind of all the same, right? Wrong-O!
Our hot chocolate mix is sweetened with stevia, so it's delicious AND guilt-free. Even better, it won't sabotage your health goals or send your blood sugar into outer space. *Here's the secret formula we mentioned earlier: We pair stevia with a sugar alcohol called erythritol. Erythritol is a naturally occurring sugar alcohol that can be found in fruits and veggies. Most companies who make sugar-free products use a pre-made blend of erythritol and stevia. At 5 Sparrows, each of our products, including our hot chocolate, has a custom blend of each of these sweeteners, giving the final product that perfect sweetness with no bad aftertaste.
With that in mind, here's how to use it:
• Dissolve 2 tablespoons of Dark Chocolate Drink Mix into 8 ounces of hot coffee for a yummy mocha, or into a cup of warm milk for a delicious hot chocolate. We recommend using a handheld milk frother for an extra creamy, delicious drink.
It's simple, but trust us when we tell you, it's a real goodie.
Other Sugar-Free Hot Chocolate Recipes
Looking for another way to enjoy our sugar-free hot chocolate? Here are a few recipes we recommend:
The 5 Sparrows "Nutella" Mocha
Mix 8 oz of hazelnut-flavored coffee with 2 tablespoons of our dark chocolate powder.
Froth lightly and serve hot.
5 Sparrows Dark Chocolate Peppermint Mocha
Heat 8 oz unsweetened coconut milk to 165 degrees (use a milk thermometer to get it just right).
Add 2 tablespoons of 5 Sparrows sugar-free chocolate powder.
Mix thoroughly.
Add 1 drop of peppermint extract.
Top with sugar-free whipped cream*
(*Here's how we make sugar-free whipped cream: mix 8 oz heavy cream with 2 tablespoons of sugar-free white chocolate powder. Whip until stiff peaks form.)
Salted Caramel Mocha
Mix 1 tablespoon of hot chocolate powder and 1 tablespoon of salted caramel powder into 8 ounces of coffee.
Froth lightly and serve hot.
Top with sugar-free whipped cream if you're feeling fancy.
What Our Customers Say About Our Diabetic-Friendly Hot Chocolate
Don't take our word for it. Check out what our customers say about our yummy hot chocolate:
"The very best hot chocolate mix on the planet!"
- Donna B.


"The best and only chocolate I put in my coffee. Love it and am grateful that it is available."
- Lori H.


"Add to Coffee for a GREAT Cafe Mocha!"
- Dorothy A.


"Finally found the perfect Dark Chocolate that's sugar-free and tastes great. Use it for my mochas and as a creamer with coffee."
- Don G.


The Sugar-Free Hot Chocolate Dreams are Made of
There's something so satisfying about a warm cup of hot chocolate on a chilly day. It's comforting, delicious, and it reminds most of us of our childhoods, and of the simpler days we enjoyed back then. It's a treat and a ritual, and you shouldn't have to sacrifice it because you're trying to cut down on sugar.
Here at 5 Sparrows, we make a sugar-free, diabetic-friendly cocoa mix that's delicious and designed to work with (not against) your health goals. In fact, there are actually health benefits to drinking a well-made hot chocolate like ours!
Sweetened with Stevia, our hot drinks and coffee creamers are the perfect addition to your daily routine. Check them out today to find your new favorite flavor.

And for you history buffs out there . . . do you know the actual difference between "Hot Chocolate" and "Hot Cocoa"?

Hot Chocolate vs. Hot Cocoa: What's the Deal?
Did you know that hot chocolate and hot cocoa are NOT the same things? At least not historically.
Typically, hot cocoa was made from sugar, milk, and cocoa powder. It was thick, sweet, and popular among all sorts of people throughout history, especially royalty, where it was reserved for serving to special guests, in fancy china, as a delicacy.
Hot chocolate, on the other hand, was made by melting shaved or finely-ground dark chocolate into milk. Simple and straightforward, and a bit richer and stronger-tasting than hot cocoa.
Since then, however, the playing field has leveled out a bit.
When you look at the label of your favorite hot chocolate mix, you'll find that most high-end companies make it with caramel, cream, vanilla, sugar (or Stevia, in our case), and cocoa powder.
Today, hot cocoa and hot chocolate are pretty much indistinguishable, and it's safe to use the terms interchangeably.

At 5 Sparrows Brand, we're excited to be "making history" by taking our Dark Chocolate mix to a whole new level of variety and tastiness! Who knew this level of chocolate delicious-ness could be "sugar-free" and used for so many different purposes? We invite you to jump on the bandwagon, (and bring your friends too), to sample the 5 Sparrows Brand family of products! Shop your whole new world of sugar-free delight here: Shop Now