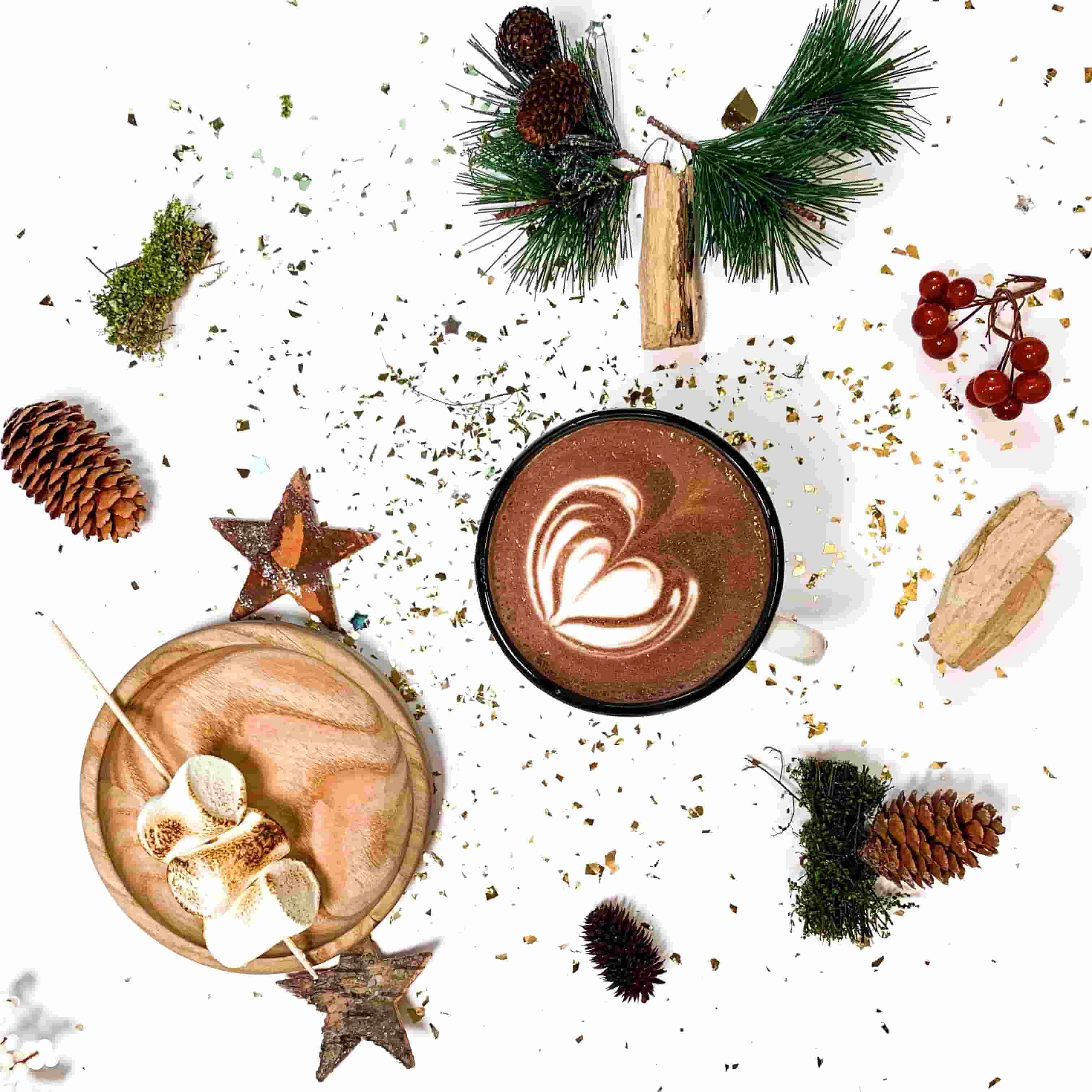 "Chocolate is proof God loves us and wants us to be happy." We're pretty sure Benjamin Franklin said that. And it's true. What's more delicious than creamy, smooth, tantalizingly sweet chocolate? In a drink, drizzled over fresh fruit, in bar form - it seems like the perfect treat until you check the sugar content or experience that weird, buzzy high that comes with sending your blood sugar levels into the stratosphere.
Chocolate is a good thing, and we believe you should be able to enjoy it in a delicious, guilt-free way that enhances your health and helps you feel great.
Here's how:
Chocolate Without the Guilt: 5 Ways to Enjoy it
Whether you're a lifelong chocoholic or just someone who likes to enjoy a moment of peace and pleasure in the middle of a busy day, these five tips can help you maintain your chocolate habit, without sabotaging your health goals:
1. Upgrade your coffee creamer
Is there anything better than the ritual of coffee? The warm mug in your hands, the heady aroma, the first delicious sip - we love it all! For many of us, drinking coffee is as much about the pleasure of the process as it is about waking up. And if you love chocolate, your morning coffee is another opportunity to incorporate some guilt-free sweetness into your lifestyle.
Our sugar-free white chocolate coffee creamer brings a smooth, delicious, comforting taste to your morning routine. Compatible with Weight Watchers, Whole 30, and Keto diets, this easy-to-blend mixture will enhance the daily ritual of coffee, without blowing your daily macros count.
2. Mix up a mug of hot cocoa
Winter has arrived here in Montana, and there's a chill in the air. As the weather starts to turn, few things are as comforting as a warm, steamy mug of hot chocolate. Luckily, our sugar-free chocolate drink mix allows you to enjoy hot cocoa without the sugar hangover later. Just mix it in with your favorite hot milk or milk alternative for a tasty, comforting drink that will warm your core.
We also love this mixture as a treat for kids. It offers all the taste without any of the sugar crazies. Mix up a few mugs to help the little ones warm up after sledding, or serve this delicious, frothy mixture as dessert after your next dinner party.
3. Blend it up
If you prefer to take your chocolate to-go, consider blending it right into a delicious smoothie or frappe. We love using our sugar-free frappe and smoothie base as the foundation for a satisfying cold drink.
Add some of the dark chocolate drink mix and the frappe mix to a blender, throw in a banana, some protein powder, and your favorite milk or milk alternative (we also love making it with cold-brew coffee for an afternoon pick-me-up). It's a simple treat that will provide the guilt-free pleasure you crave.
4. Add it to fruit
Chocolate and fruit are a match made in heaven. Next time you face the mid-afternoon energy slump, whip up this tasty treat instead of reaching for a sugary candy bar or drink: rinse and assemble a bowl of your favorite fresh-cut fruit. We love using raspberry, strawberries, blueberries, and bananas.
Next, add a dusting of our sugar-free chocolate drink mix and a drizzle of honey. This mixture is equally tasty over your favorite smoothie bowl base. If you prefer, you can also make a ganache by adding a few drops of boiling water to the mixture and drizzling it over your favorite fruit.
5. Whip up dessert
Mix up a guilt-free dessert by stirring some sugar-free chocolate powder into plain greek yogurt (or unsweetened coconut yogurt, if you're dairy-free). Eat it straight out of the bowl or chill it in the refrigerator, first, for a delicious, cheesecake-like treat.
Chocolate Without the Guilt is Possible
It's the sweeter things in life that make every day feel special. So if you love chocolate, you know exactly how hard it can be to sacrifice this little ritual just because you're trying to protect your health goals. Fortunately, there are ways to enjoy chocolate without spiking your blood sugar levels. Whether you choose to sprinkle some sugar-free chocolate over a bowl of beautiful fresh fruit or enjoy a frothy mug of hot cocoa after a satisfying dinner, we promise these guilt-free tips are functional, accessible, and delicious.
What are you waiting for? Make your daily life a little sweeter with our guilt-free coffee creamer, hot cocoa, and sugar-free drink mixes. Find your favorite now.