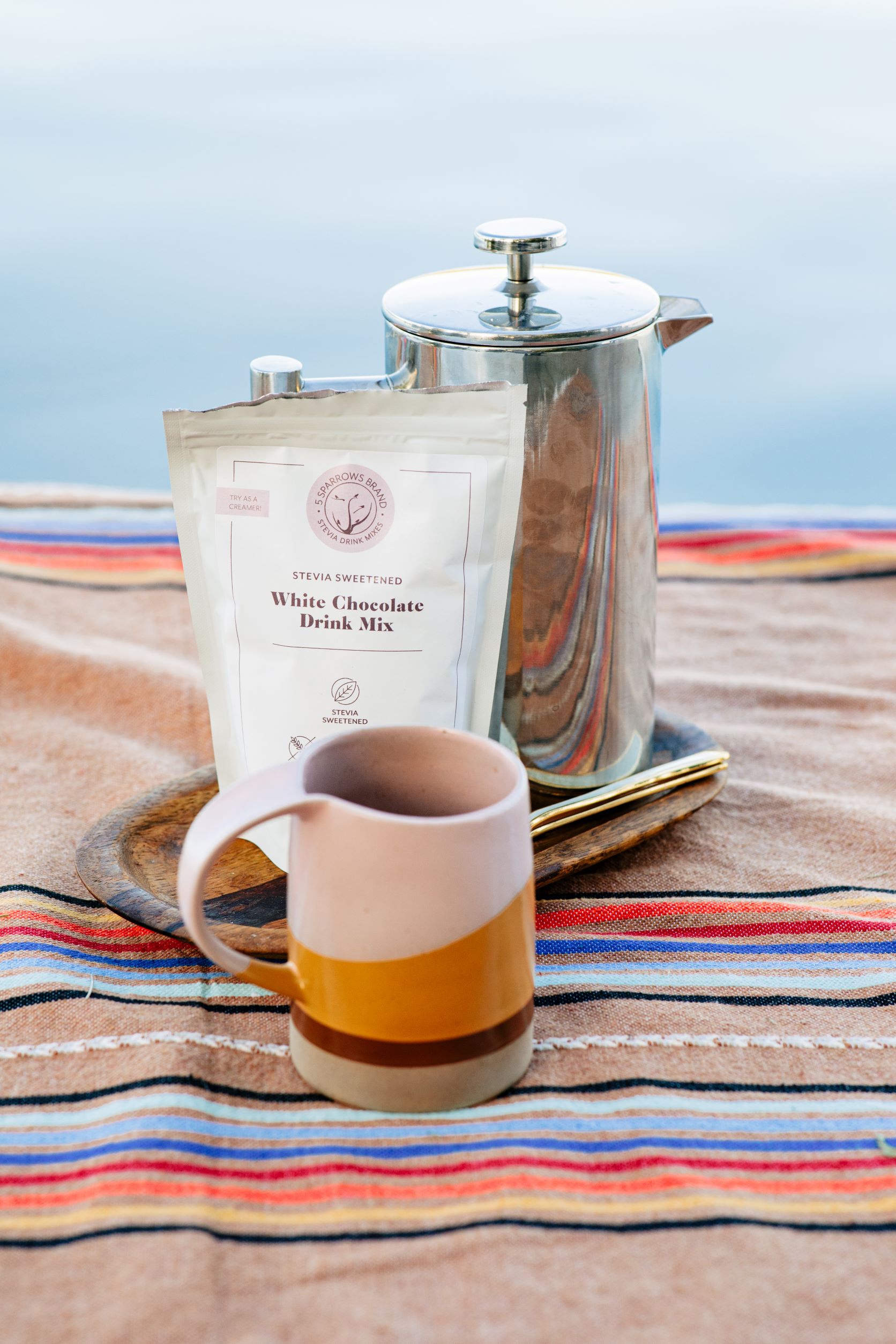 In the coffee world, white chocolate powder is a staple. And for good reason: it's sweet, satisfying, and the perfect way to make your cup of joe a little more special. Here at 5 Sparrows, we love white chocolate as much as the next girl, but we didn't love how much sugar the traditional varieties packed.
So, we set out to reinvent the fan-favorite. Of course, we knew we had to nail it if we wanted to earn a place in our customer's hearts. After a year of formulating and testing, our team came through and we wound up with a truly delicious white chocolate powder that's used in coffee shops and homes all over the world.
Today, our sugar-free white chocolate is our top-selling product. Customers from bodybuilders to diabetics love it, as do all those regular, every-day folks who just want to support their health goals and satisfy their cravings.
In this special blog, we'll break down what makes our white chocolate unique, and why we're so proud of this special flavor.
Let's get into it.
What Makes Our White Chocolate Special?
If you like coffee, you know that there are A LOT of white chocolate flavors out there. White chocolate itself is a unique flavor (learn more about its history here) and people who love it REALLY love it.
So, what makes ours special?
Here are a few highlights:
No artificial sweeteners. Our white chocolate powder is naturally sweetened with a unique Stevia-Erythritol blend, which means it contains no artificial sweeteners and is derived from nature.
No clumping. There's nothing worse than winding up with a clumpy mess when you try to mix a white chocolate powder into your coffee. In fact, most brands we've tried require a hand blender to get truly smooth. Fortunately, ours blends like a dream - disappearing into your coffee for a silky, velvety finish that's delicious and clump-free.
No bad aftertaste. You want your coffee to taste sweet - not metallic. Our white chocolate powder doesn't have any of that nasty aftertaste - it tastes like the real thing.


Clean Ingredients that support your lifestyle. Our white chocolate powder is FODMAP certified, gluten-free, Macro-friendly. A single serving is just 1 Weight Watchers point. Just important as what this product is is what it isn't. Our Sugar Free White Chocolate Drink Mix doesn't contain any hydrogenated oils, corn syrup solids or trans fats. A single serving is just 1 Weight Watchers point.
How to Use our White Chocolate Powder
Looking for a few fun ways to use our white chocolate powder? Here's what we recommend:
As a Coffee Creamer
Stir a bit of 5 Sparrows white chocolate powder into your coffee for a sweet, delicious morning treat that won't send your blood sugar into the stratosphere. Be sure to taste as you go and adjust the amount up or down depending on your preferences.
As a Dessert
Our white chocolate powder isn't just for coffee. In fact, it makes a great dessert addition! Here's our favorite way to make berries and whipped cream with our sugar-free white chocolate:
Slice up some of your favorite berries. We love strawberries, raspberries, and blueberries for this recipe, but you can add whatever you have.


Drizzle the sliced berries with honey and add granola if desired.
In a parfait cup, layer the berries with our Sugar-Free Whipped Cream made with 5 Sparrows Sugar-Free White Chocolate Mix.
Top with another dollop of sugar-free whipped cream, a fresh mint sprig, and some edible flowers for a treat that looks as good as it tastes.
In a Power Shake
Take your white chocolate love to a refreshing new level by blending it with:
ice
your favorite milk
vanilla protein powder
sugar-free frappe mix
instant espresso powder
What Our Customers are Saying
Don't take our word for it! Check out what our customers are saying about how they use our white chocolate powder, and why they love it:
I've been trying to find a White Chocolate alternative to my surgery coffee treats! This SF White Chocolate is amazing and fits the cravings! I highly recommend it to those who love their coffee treats but don't want all the added sugar! - Christine
I love this!! I was looking for something to make iced or warm (white) Mochas that was low or no sugar and didn't have much dairy in it. I use with coffee and coconut milk. And I won't raise my blood sugar! - Marsha M.
I love the white chocolate creamer and was pleasantly surprised that it was sugar free. I usually don't like "sugar free," but this is really good. I also want to comment on how fast I received the product. I've ordered twice and will continue to do so. I plan on ordering more to add to a coffee gift basket. Thank you! - Gina K.

Ready to fall in love with our sugar-free white chocolate? Head to our store page now to pick up your own bag!