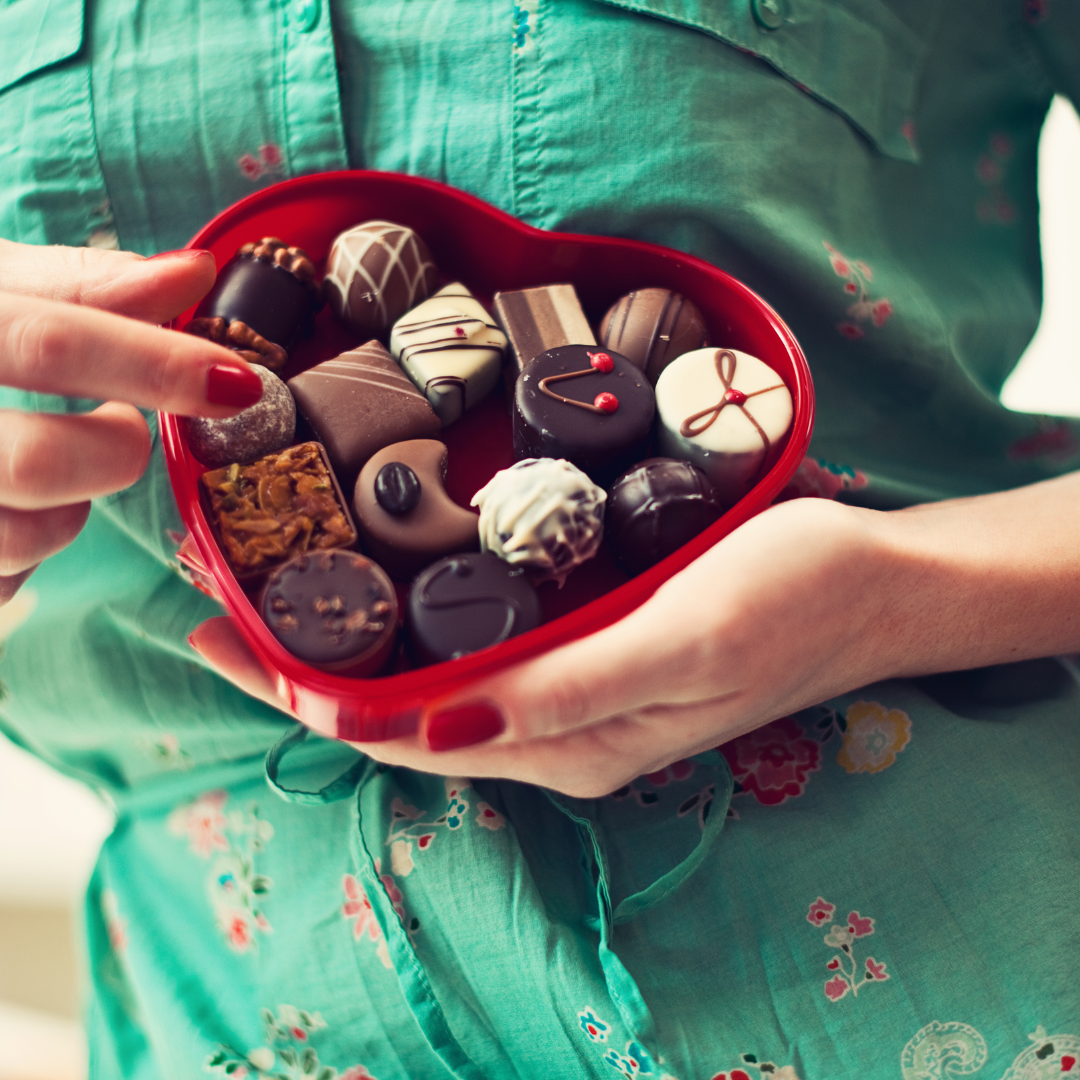 Nothing quite says "I love you" like chocolate. We all have New Year's resolution goals that we are trying to stick to, so instead of sugar and corn syrup filled candies, try out these delectable, health-focused chocolate treat recipes created just for you that feature our sugar-free Dark Chocolate Cocoa Drink Mix. Love is in the air, as well as in how we treat our minds, bodies and oneanother. Let's get busy making life sweet!
Recipe 1 - Chocolate Covered Cherry Hot Cocoa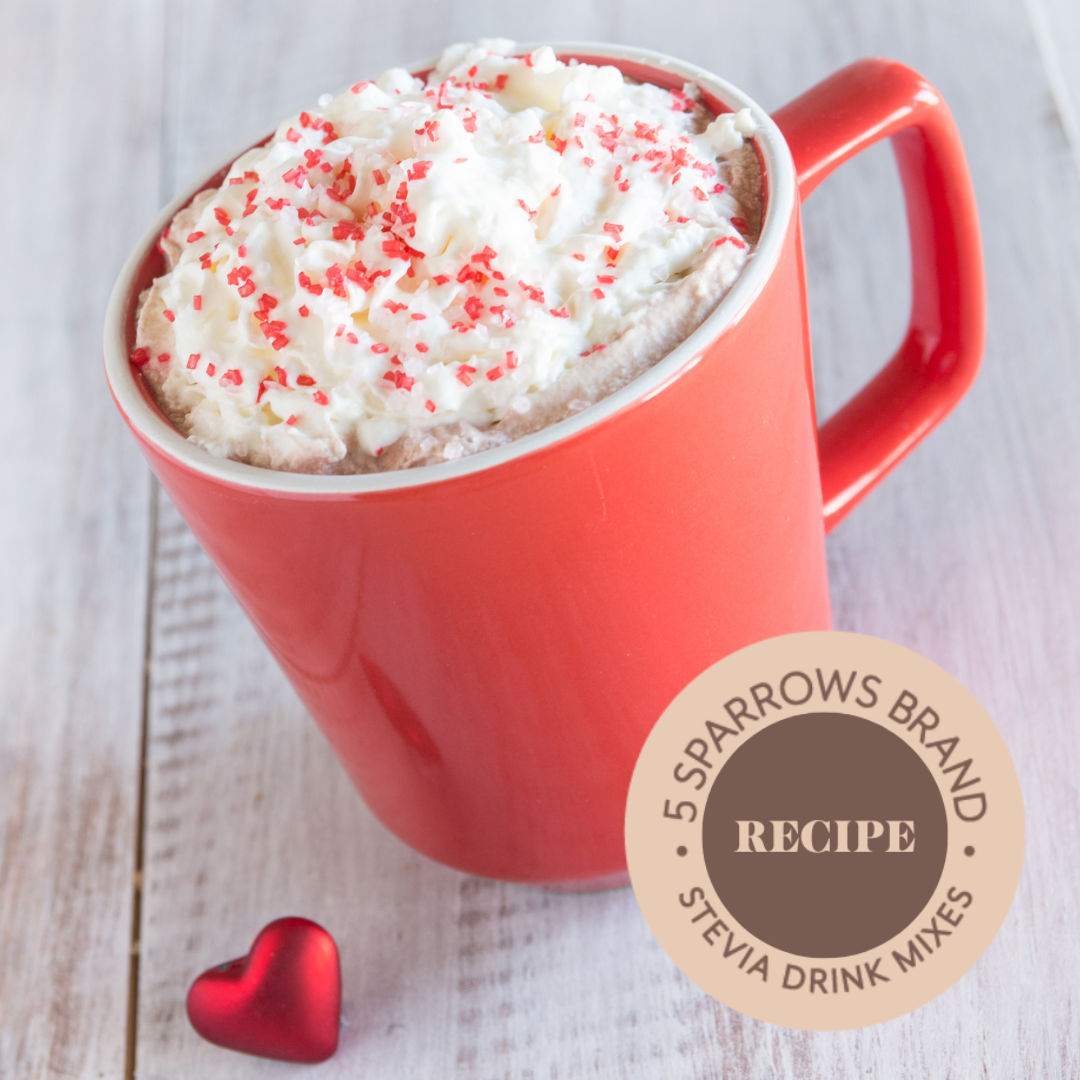 Remember those delicious boxes of cherry cordials from your childhood? We do! Adults and kids alike will love this cherry twist on our favorite hot cocoa.
How we make it:
Prepare a 12 oz hot cocoa according to package instructions using 5 Sparrows Dark Cocoa Drink Mix. (We love using oat milk!)
Add 1/2 Tbs 5 Sparrows White Chocolate Drink Mix.
Add 1 oz cherry juice (ex: https://www.tabletreejuice.com/products.) or one drop cherry extract.
Mix well, a mini electric whisk works best for this.
Top with 5 Sparrows Whipped Cream, Enjoy!
Recipe 2 - Sugar Free Chocolate Mug Cake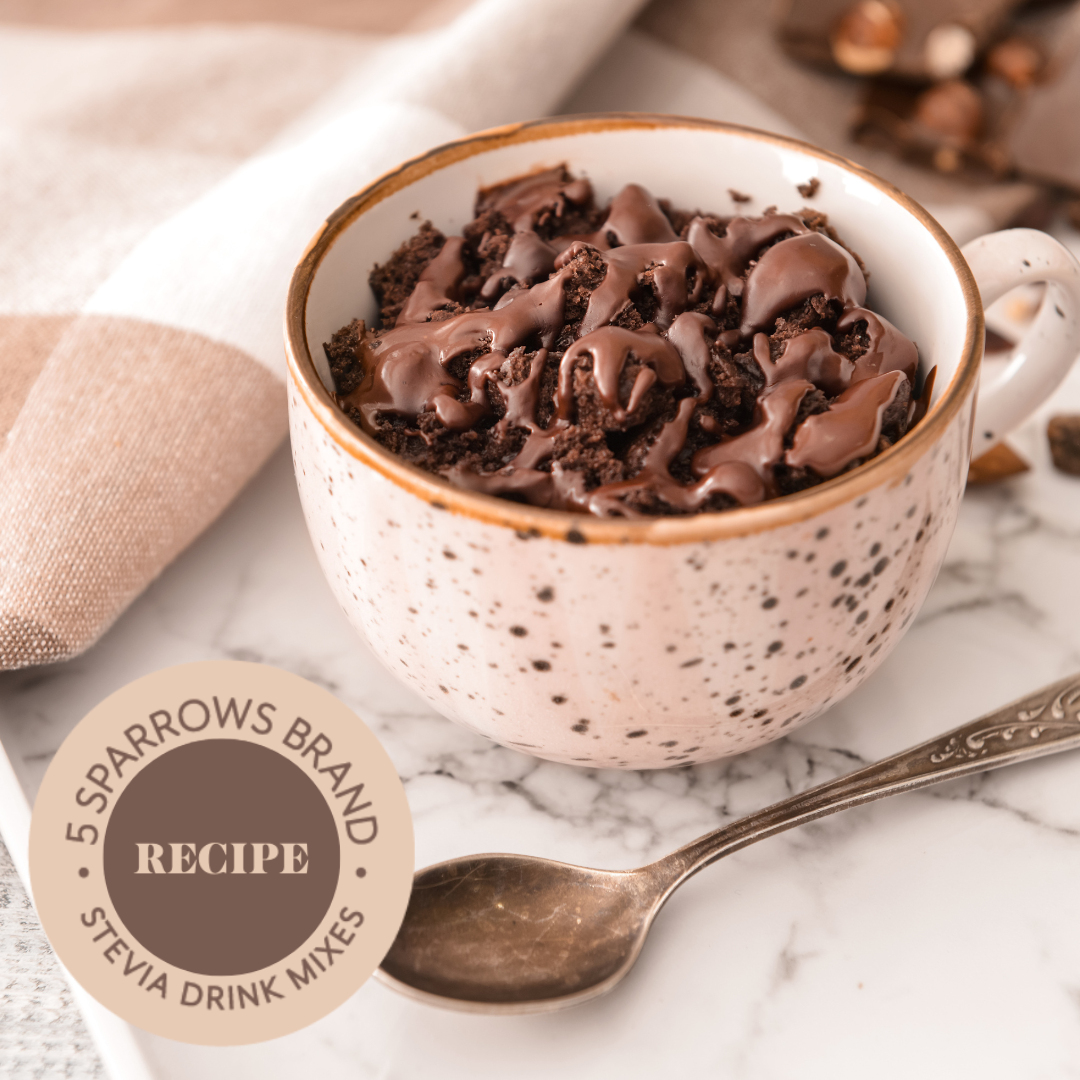 Chocolate cake anyone? Yes please! Fast and easy, ooey goey mug cake that will make everyone smile!
How we make it:
In a microwave safe mug, melt 1 Tablespoon Butter
Add 3 Tbsp almond flour
2 Tablespoons 5 Sparrows Brand Dark Cocoa Drink Mix
1 Tablespoon all natural peanut butter
½ teaspoon baking powder
1 egg, beaten
splash of vanilla
Mix well, Microwave on high for 60 seconds, being sure not to overcook. If it needs additional time. Microwave for 30 seconds.
Top with 1 Tablespoon sugar-free chocolate chips.
Enjoy!
Recipe 3 - Sugar-Free Chocolate Mousse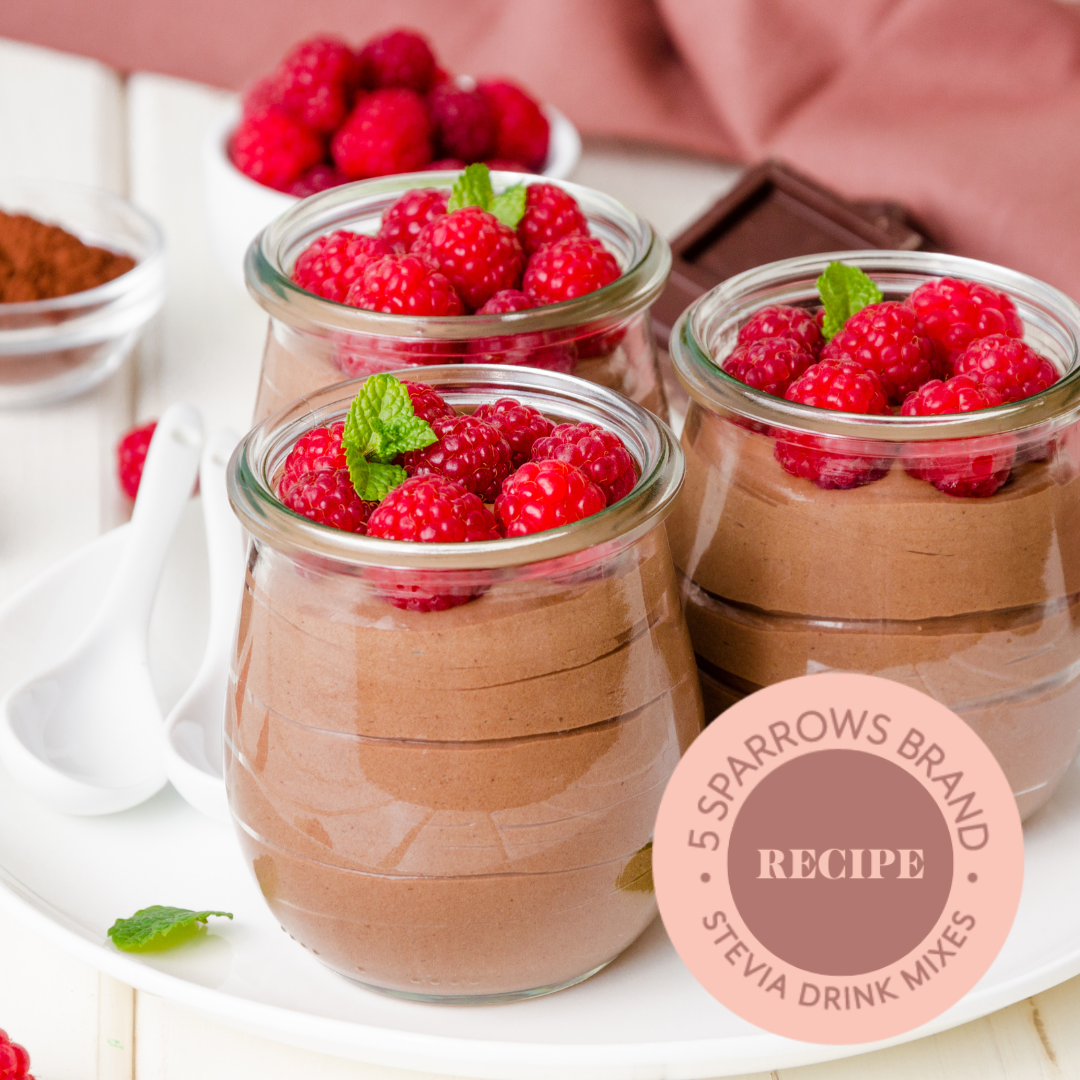 Focusing on your new years resolution goals? We make staying on track easier with sweet and protein packed snacks like this. Be sure to try it out and let us know what you think!
How we make it:
One small container nonfat plain greek yogurt.
3 Tbls 5 Sparrows Dark Cocoa Drink Mix.
Mix well and top with fresh raspberries, enjoy!
Recipe 4 - Low Sugar Mocha Affogato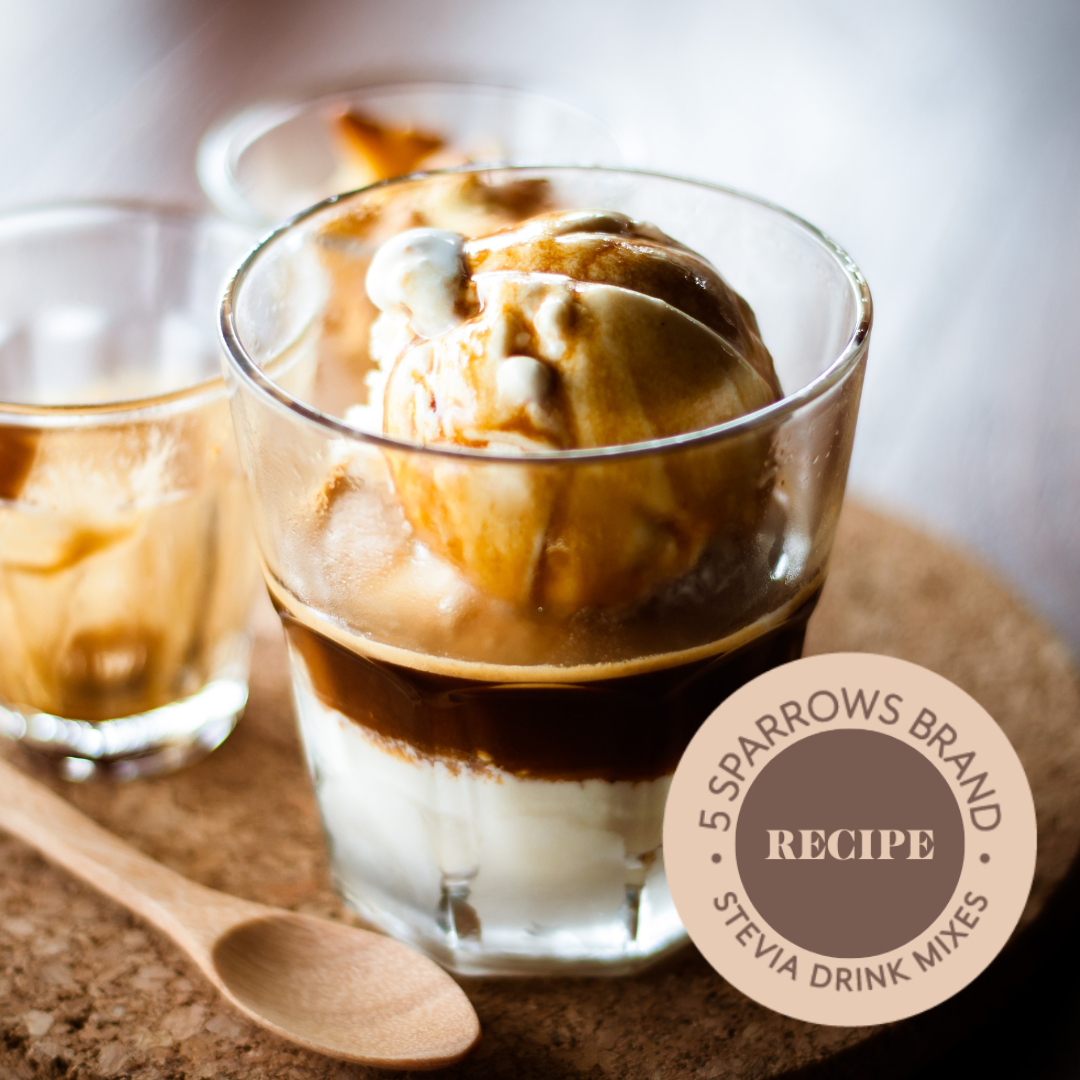 Ice cream and coffee, what could be better? This one is sure to satisfy! Try out our take on this classic Italian dessert. The word affogato literally means "drowned", and we are drowning this ice cream in chocolate and coffee goodness!
How we make it:
One serving low-sugar vanilla ice cream.
1 Tbs 5 Sparrows Dark Cocoa Drink Mix
1 tsp instant espresso powder
Scoop ice cream into a heat-proof bowl.
Mix 2 oz water with instant espresso and Dark Cocoa Drink Mix, mix well and slowly pour over your ice cream.
Top with our 5 Sparrows Brand Sugar-Free Whipped Cream and a dash of cinnamon for some extra yum!
Recipe 5 - Low Carb Chocolate Ganache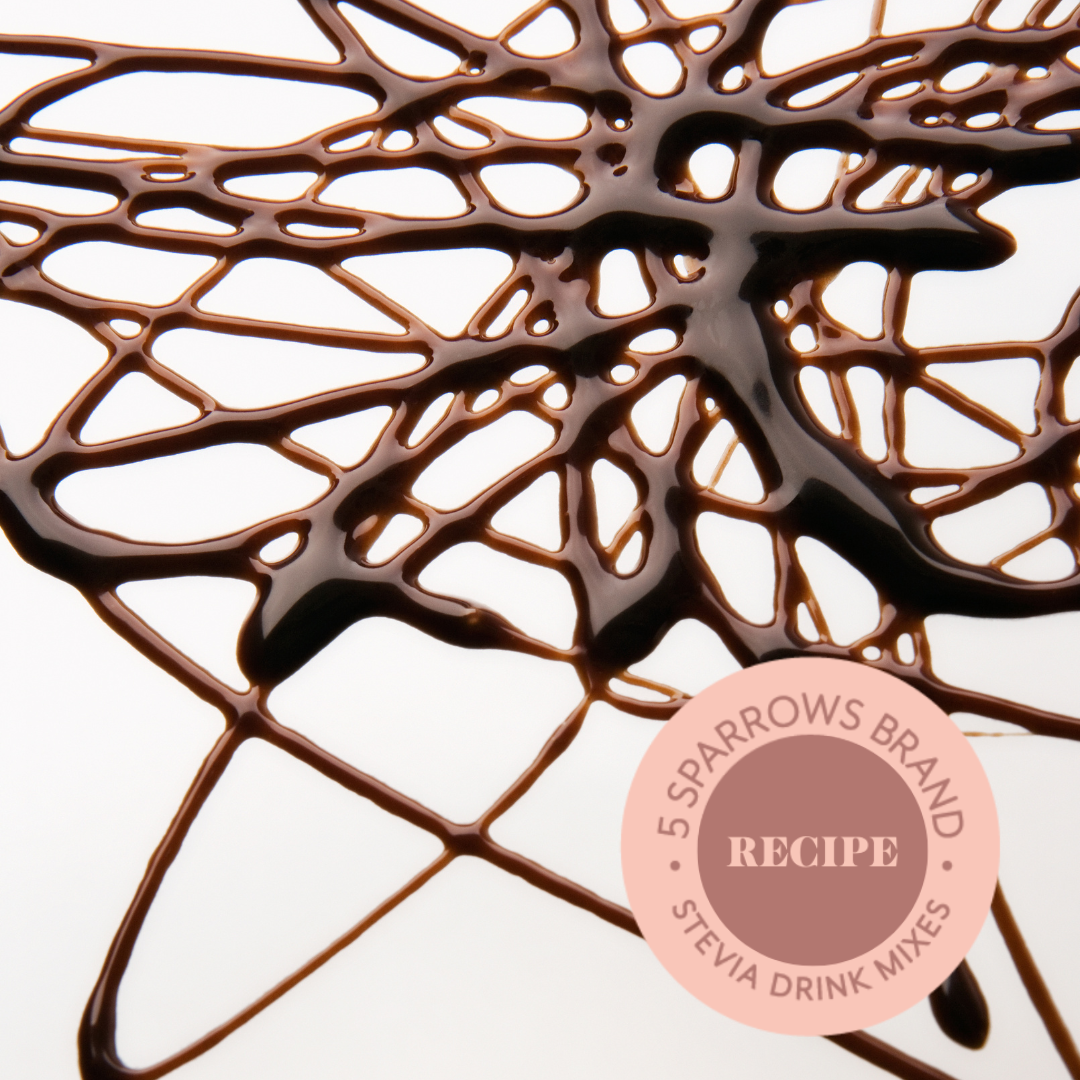 Sometimes all you need is frosting and a spoon, but we know that is only going to lead to sugar crashes and regret, so we made this for you! Here is your new favorite topping for ice cream, cakes, fresh fruit or just by itself!
How we make it:
Pour 2 Tbs boiling water into a heat safe glass dish.
Add 4 Tbs 5 Sparrows Dark Cocoa Drink Mix.
Whisk it together well and use immediately.
It's that simple!
Whether you're celebrating this Valentine's month of love with self-love or gifting sweets to your sweetie, give the gift of good-for-you treats this year with 5 Sparrows Brand stevia-sweetened coffee creamers and drink mixes that will spark health and happiness in every sip.