April showers bring May flowers, which kinda seems like it's nature's way of celebrating moms, am I right?! Here at 5 Sparrows Brand, we love to celebrate. Encouraging, empowering, and recognizing the hard-working women in our lives is something we take very seriously. In fact, 5 Sparrows Brand is committed to women's advocacy by supporting groups that empower survivors of domestic abuse like refugeministries.com. We are proud to make a difference with our small, woman-owned business in any way we can.
Mother's Day shouldn't be the only time we spoil that special woman in our lives, but it's sure a great excuse to show her some love. Moms are truly unsung heroes. They have the grit and determination to never give up. They work from sun up to sun down in exchange for hugs and kisses. They put their family first and make countless sacrifices for the sake of making their children smile . That is worth celebrating if you ask us!
So grab a bouquet of flowers and whip up one of these scrumptious, secretly healthy, and low-sugar, brunch sweet treats to spoil her and let her know how much she means to you. Whether she is a biological momma, a sister, a friend, a grandma, or an aunt, if she's special to you, she deserves some attention!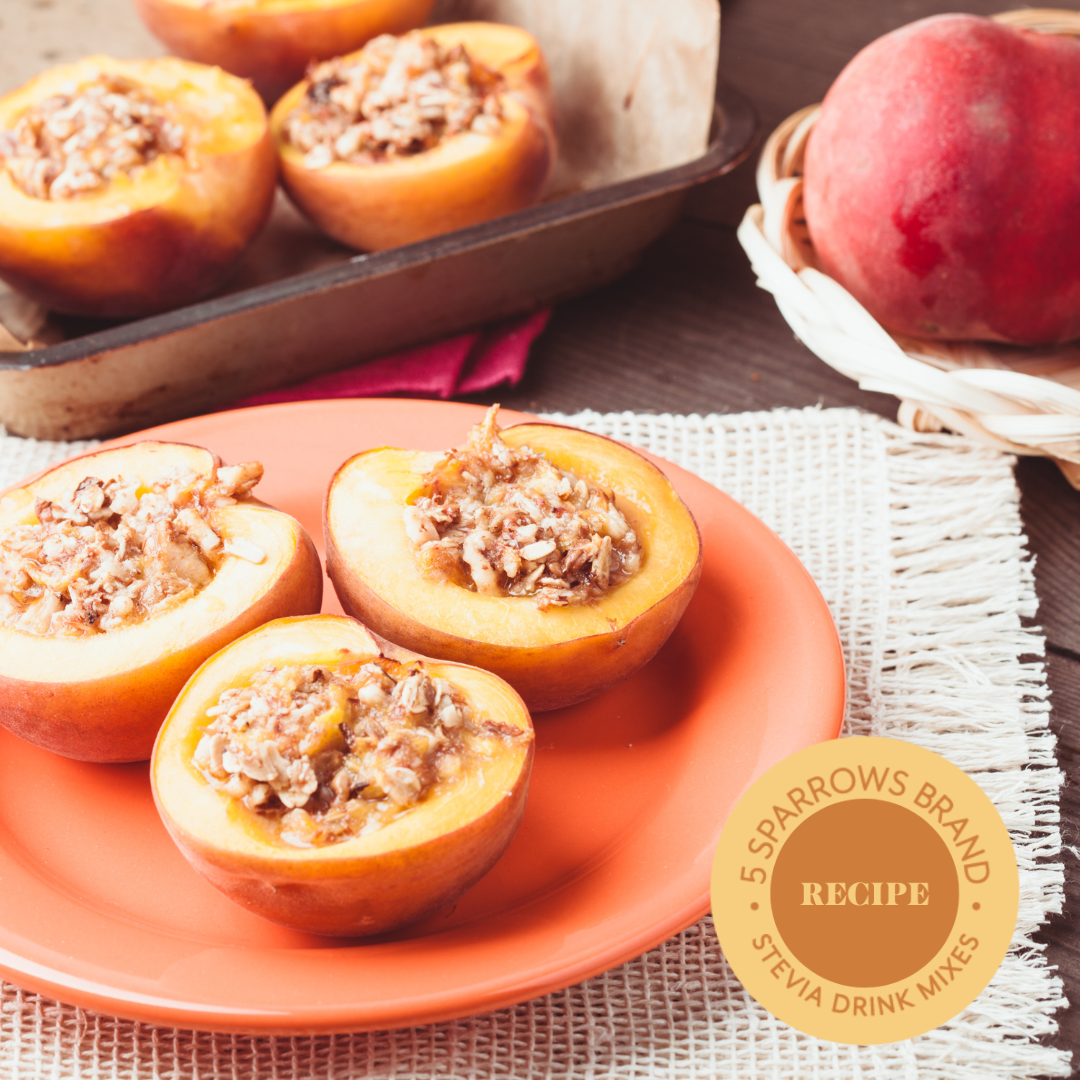 Peaches and Caramel Baked Oats (Gluten-free, Sugar-free, Dairy-free)
Who doesn't love a cozy bowl of oatmeal?? Oatmeal is a classic breakfast treat and we're taking it up a notch with this delicious baked oatmeal recipe full of flavor and goodness to keep you feeling full, satisfied, and energized all day!
This is the perfect, health-focused breakfast to start your Mother's Day festivities. Take her out shopping, pamper yourselves with a pedicure, or go for a relaxing walk. Whatever your plans are, you'll be happy you started it off the right way:)
So let's make this yummy dish!
INGREDIENTS
2 cups old-fashioned rolled oats (not instant)
1/2 cup packed Swerver dark brown sugar (or other sugar-free granular sweetener)
4 Tbs 5 Sparrows Brand Salted Caramel Mix
1 cup chopped pecans, divided
1 teaspoon baking powder
2 teaspoons ground cinnamon
½ teaspoon salt
2 large eggs
1⅔ cups milk of choice, we love coconut or oat milk
1 teaspoon vanilla extract
3 tablespoons unsalted butter or coconut oil, melted
2½ cups fresh or canned peaches (unsweetened), divided
For the Topping:
1 cup Unsweetened Greek yogurt
3 Tbs 5 Sparrows Brand Salted Caramel Mix
INSTRUCTIONS
Preheat the oven to 350°F. Grease an 8-inch baking dish with butter or coconut oil.
In a medium bowl, combine the oats, Swerver brown sugar, Salted Caramel, ¼ cup of nuts, baking powder, cinnamon, and salt. Mix well.
In another bowl, break up the eggs with a whisk; then whisk in the milk and vanilla until well combined. Add the milk mixture to the oat mixture, along with the melted butter.
Top with 2 cups of the diced peaches evenly over the bottom of the prepared baking dish. Pour the oatmeal mixture over top and spread evenly. Sprinkle the remaining ¾ cup nuts and ½ cup peaches on top. Bake for 45 to 55 minutes, until the pecans on top are rich brown color and the oats are set. Meanwhile, in a small bowl, whisk together the Greek yogurt and Salted Caramel Drink Mix.
Let the oats cool for at least 5 minutes, then serve warm or at room temperature with Greek yogurt frosting, if desired.
(Recipe adapted from @onceuponeachef )
Here's what our customers are saying about our White Chocolate Drink Mix:
"This is the most deliciously flavored coffee creamer! I love it and haven't enjoyed coffee since switching from sugar until now. This is the best!"
"This has rapidly become one of my "happys." I love my morning coffee with my 5 Sparrows White Chocolate Drink Mix. I have it every day!"
"I've been trying to find a White Chocolate alternative to my surgery coffee treats! This SF White Chocolate is amazing and fits the cravings! I highly recommend it to those who love their coffee treats but don't want all the added sugar!"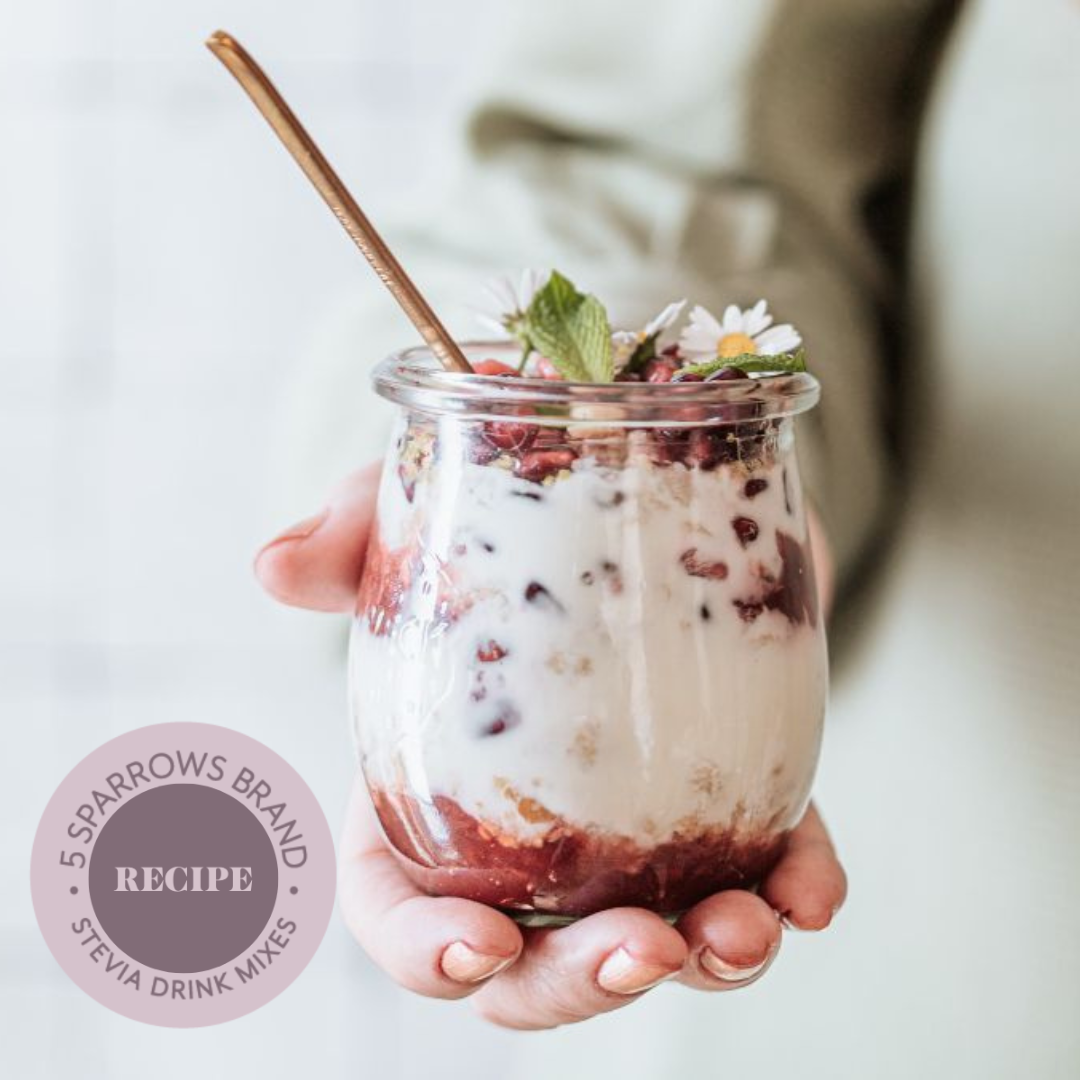 2. Berries and Whipped Cream (Gluten-free, Sugar-free)
OK, here is the easiest, yummiest, and most versatile recipe! The possibilities are endless. We love this bowl of berries and our Sugar-free Whipped cream all by itself, but it also makes an amazing topping for cheesecake or ice-cream. Alternately, sprinkle some granola in the mix for a hearty parfait!
This little recipe is perfect to whip up in under 5 minutes to satisfy that sweet tooth without sabotaging your health goals. Mom will love it, your kiddos will love it, and your body will thank you for something so sweet and refreshing that doesn't make you feel crumby.
Let's make it!
Here's what you'll need:
Here's how to make your own:
Slice up some of your favorite berries. We love strawberries, raspberries, and blueberries for this recipe, but you can add whatever you have.
Drizzle the sliced berries with honey and add granola if desired.
In a parfait cup, layer the berries with our Sugar-Free Whipped Cream made with 5 Sparrows Sugar-Free White Chocolate Mix.
Top with another dollop of sugar-free whipped cream, a fresh mint sprig, and some edible flowers for a treat that looks as good as it tastes.
3. Spiced Chai Breakfast Cake (Gluten-free, Sugar-free, Dairy-free)
Coffee cake and breakfast cakes are a classic brunch menu items. We spiced up this recipe from the My Montana Kitchen Blog and added our 5 Sparrows Brand Spiced Chai Mix for a touch of sweetness and a pazazz of flavor.
We love a warm and spicy breakfast cake. I mean I cannot think of a better pair to your favorite morning mocha than adding a slice of heaven! Not only is this breakfast cake delicious. It's sweetened with stevia and other natural sweeteners that won't send you spiraling for the rest of the day and craving unhealthy foods. It's nutritious, filled with satisfying fiber, and pretty simple to make. Mom is sure to approve:)
Our stevia-sweetened drink mixes pair so well in many classic recipes. So get creative and see what you can add them to and find your new favorite creations!
So let's get baking!
Here's what you'll need:
1 Cup Trim Healthy Mama Baking Blend (or equal parts almond flour, coconut flour, ground flaxseed)
2 Tbs 5 Sparrows Brand Spiced Chai Mix
1 Teaspoons Cinnamon
1/8 Teaspoon Cloves
1/4 Teaspoon Nutmeg
1/2 Teaspoon Baking Soda
3/4 Teaspoon Baking Powder
1/4 Teaspoon Salt
1/2 Cup Gentle Sweet (or Swerver, Monkfruit, Allulose, etc.)
1/3 Cup Melted Coconut Oil
1 Teaspoon Vanilla Extract
2 Eggs
2/3 Cup Warm Water
Frosting:
1 8 ounce cream cheese, softened
3 Tbs 5 Sparrows Spiced Chai Mix
3 Tablespoons heavy whipping cream
1/4 Teaspoon cinnamon
INSTRUCTIONS
Preheat oven to 350.In a large mixing bowl, mix all the dry cake ingredients together. Add melted coconut oil, vanilla, eggs, and warm water and mix well. Pour batter into a greased 8x8 cake pan (it may be thick).Bake in preheated oven for 30-35 minutes, or until the center top of the cake is dry. Allow the cake to completely cool.
Frosting: Beat softened cream cheese until fluffy .Add the sugar-free Spiced Chai Mix and heavy whipping cream and beat for 1-2 minutes. Spread frosting onto the cooled cake.
Here's what our customers are saying about our Spiced Chai Drink Mix:
"Chai addict. Easy to use website. So grateful to finally find a Spiced Chai made with Stevia !!!"
"Love the Chai. Eating Keto and being someone that loves Tiger Chai by David Rio. This 5 Sparrows Spiced Chai is amazing."
"BEST CHAI EVER! Seriously the best chai I've ever found! Love that it is sweetened with stevia and tastes so good!"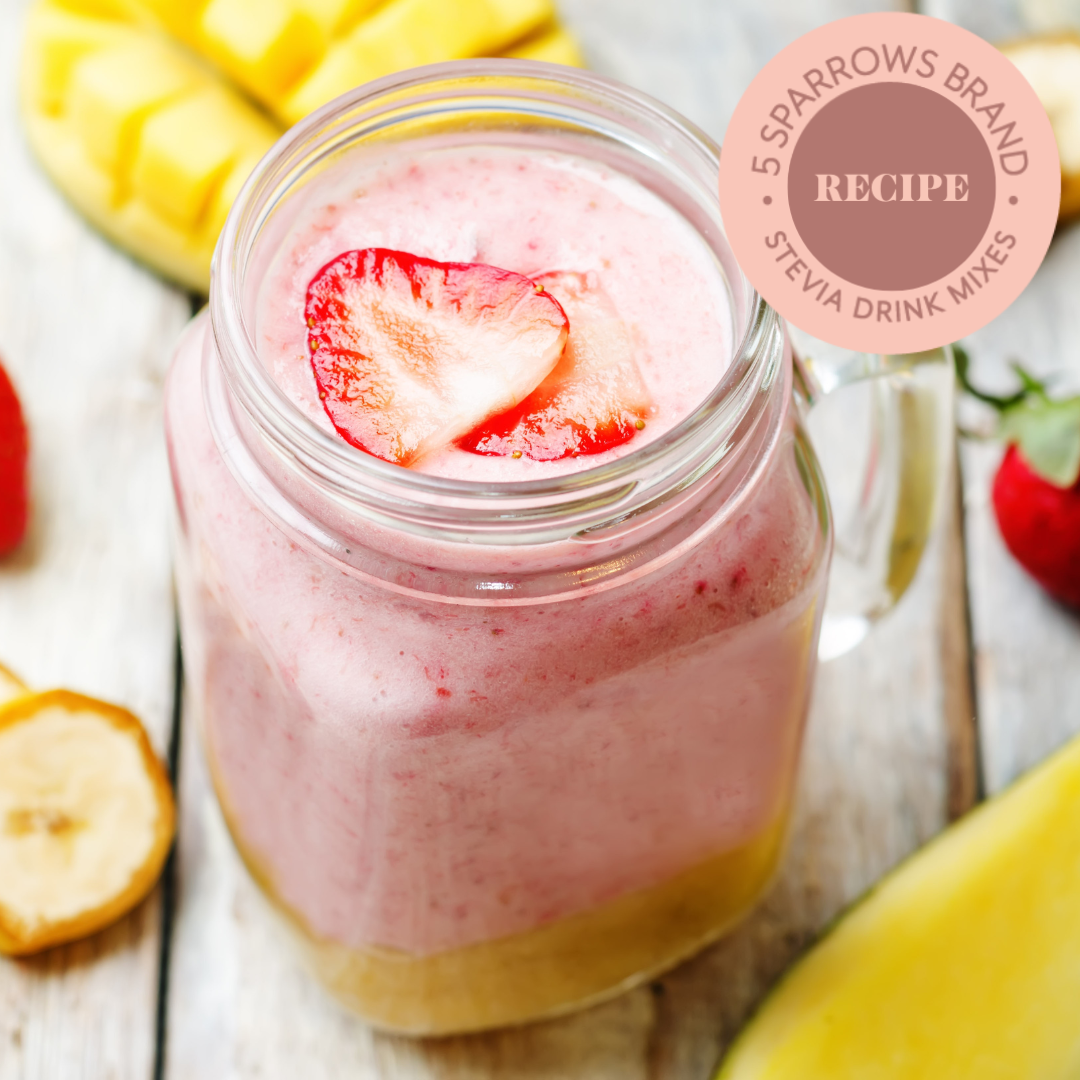 4. Lower-Sugar Strawberry Smoothie (Gluten-free, Sugar-free, Dairy-free)
Does your momma love a good strawberry smoothie? Who doesn't?! Nothing beats the sweet and refreshing taste of strawberry blended in a beautiful frozen beverage. Unfortunately, smoothies and smoothie mixes are usually packed with hidden sugar, fillers, and dyes. Well, not ours! We've reinvented this classic drink with your health and goals in mind.
She is going to love the creamy, sweet, and tangy flavors exploding from our favorite breakfast, brunch or post-workout treat! No food truck or smoothie shop is necessary. You can "take her out" right at home and whip these up with just a few ingredients.
This blend of frozen berries, coconut milk, and our Sugar-free Frappe & Smoothie Base is packed with YUM that won't spike your blood sugar and leave you feeling jittery. Pssst! It's also a delicious dessert that your kids will love! Sugar-free, stevia-sweetened, soft-serve goodness:)
Let's make it!
In a blender, combine:
½ cup frozen sliced unsweetened strawberries.
4 oz. unsweetened coconut milk.
To make this treat extra special, top it with our Sugar-Free Whipped Cream and garnish with a few sliced, fresh strawberries. You can also play with the recipe to test adding other fresh or frozen berries or substituting coconut milk for another popular milk alternative, like oat or almond milk.
Enjoy!
Here's what our customers are saying about our Sugar-Free Frappe Base Mix:
"I LOVE this! I can't get a sugar-free frappe base at any coffee shop. I get to make my own at home and with my sugar-free syrup and coffee, it is amazing!!"
"A little while back we found a local coffee shop that makes sugar-free frappes. And they were good! Now we make our own with this and they are as good (or maybe even a bit better) and cheaper. Even some of our friends who normally don't like sugar-free enjoy these. Thank you!"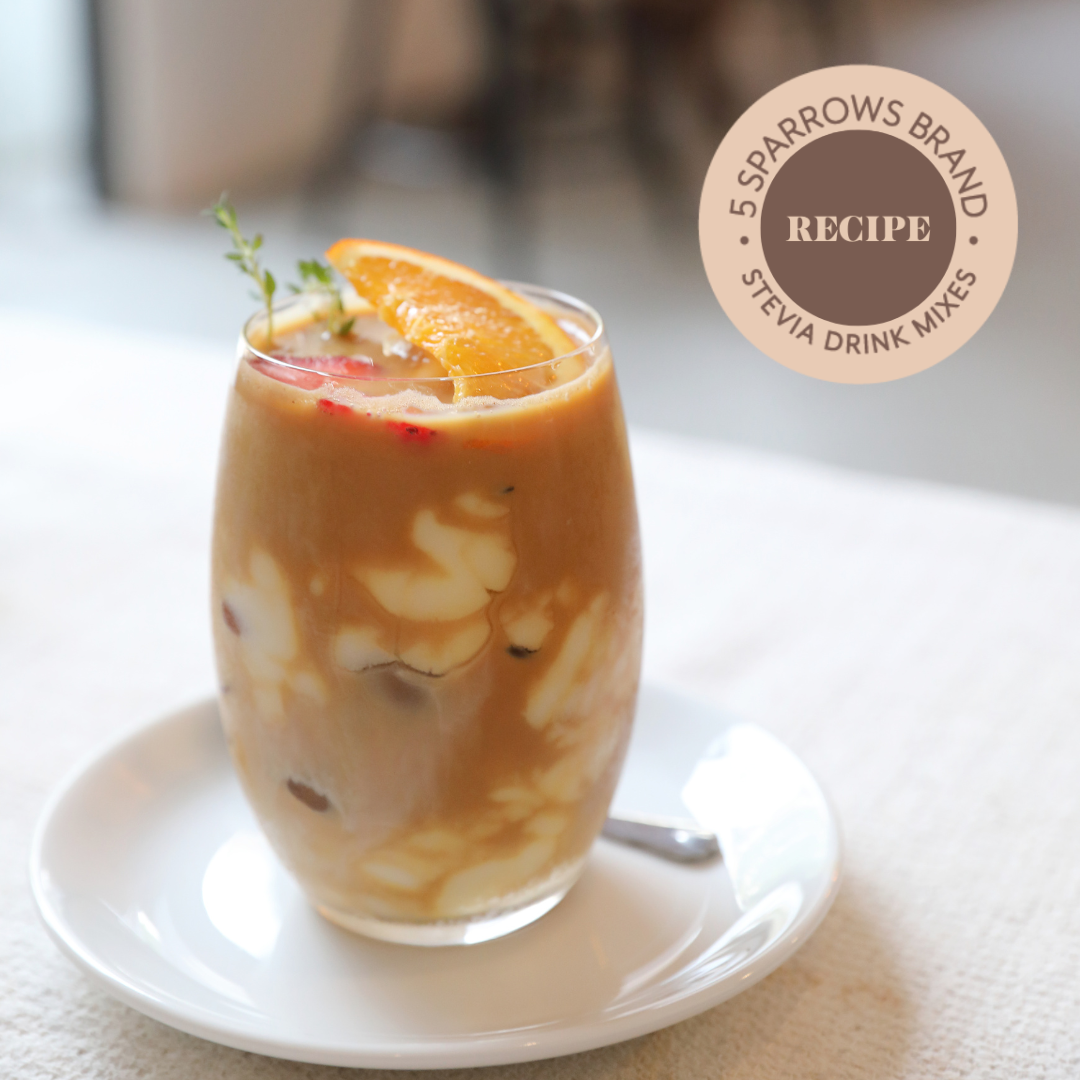 5. Chocolate Orange Mocha (Gluten-free, Sugar-free, Dairy-free)
What is brunch without coffee? We had to include this rich and delicious mocha in the Mother's Day mix. Think chocolate-covered orange balls, or those yummy chocolate-orange jelly sticks. But without the sugar, corn syrup, and food dyes.
Don't be intimidated by becoming your own barista. We promise that with our sugar-free Drink Mixes, you won't miss the coffee shop when you're mixing up rich, creamy lattes and mochas right at home. You'll save money, save time, and be doing your health a favor!
Our drink mixes are gluten-free, sugar-free, low FODMAP approved, Keto, and diabetic friendly. No hidden junk in these drinks! Just pure, naturally sweetened, YUM!:)
Here's how to make it:
8 oz freshly brewed coffee
2 oz warm milk of choice (we love coconut or oat milk)
2 tbs 5 Sparrows Brand Dark Cocoa Mix
2 drops pure orange extract (we love Pure Organics or Flavorganics)
Warm milk in a small saucepan or microwave, add 2 tbs Dark Cocoa Mix to a mug and 2 drops of orange extract. Slowly pour warmed milk and brewed coffee into your mug, stirring well as you go. A handheld electric wisk works great for this to get a yummy froth! Top with our 5 Sparrows Brand sugar-free whipped Cream if you want an extra dollop of creamy good
Here's what our customers are saying about our Dark Cocoa Drink Mix:
"Delicious dark chocolate cocoa drink mix! Great taste and love that it is sugar-free."
"This is the best low-calorie hot chocolate mix I have found! I'm thankful to have found this wonderful company, I love that it's supporting my healthy habits!"
"I absolutely love this product. My favorite coffee stand uses it and I thought why not get some for home? I highly recommend it to anyone looking for an alternative to sugary coffee creamers."