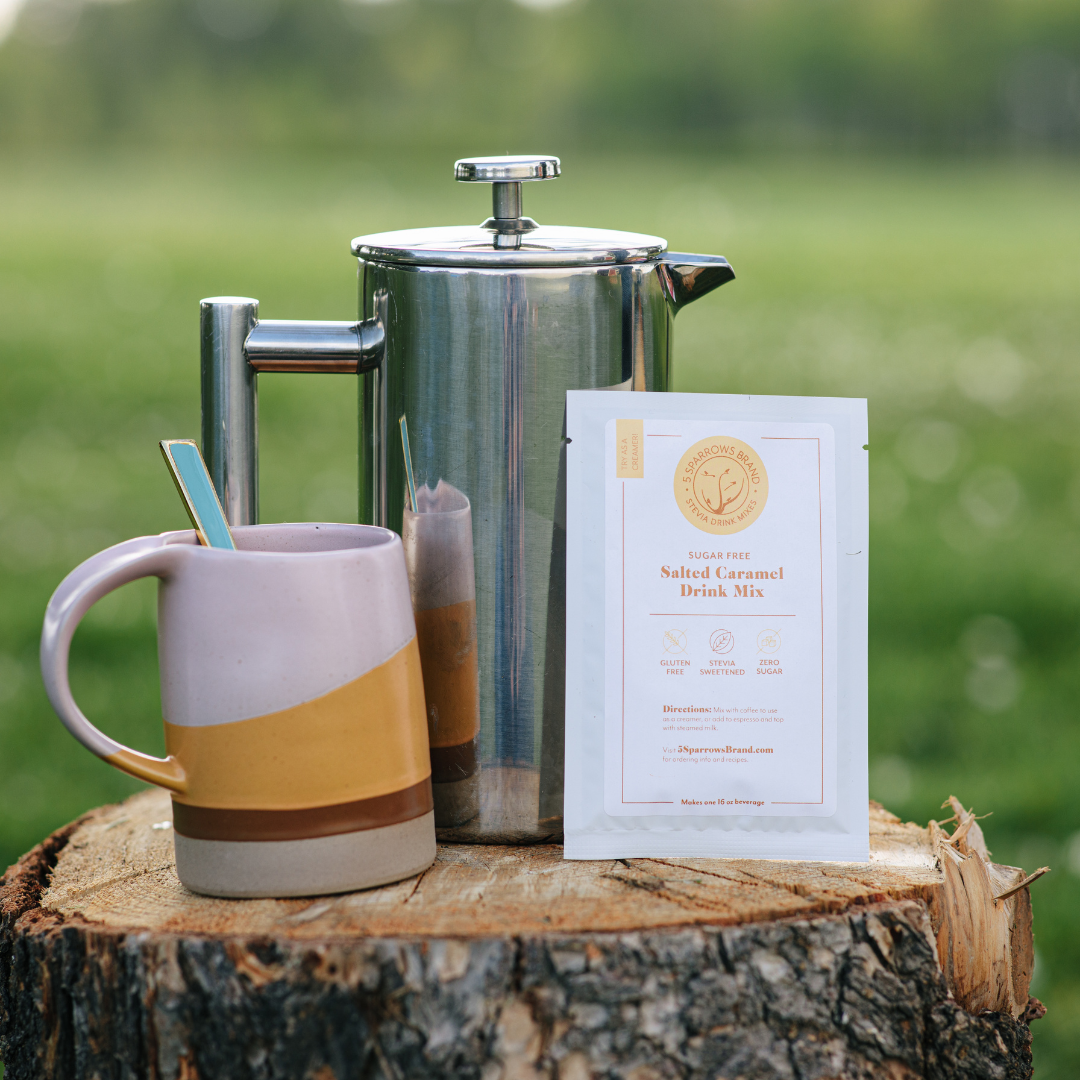 The combination of sweet and salty flavors along the creamy texture of caramel makes salted caramel a sweet lover's dream. But, if you are aspiring to make healthier choices, you probably assume it's off-limits. Whether trying to reduce sugar and fat intake for overall well-being, or to address health concerns such as diabetes or heart disease, salted caramel is a big no-no. Unless you reach for our 5Sparrows Brand Stevia-Sweetened Salted Caramel Drink Mix.
Did you know that each year, 1.4 million Americans are diagnosed with diabetes? That diagnosis can come with a lot of worry, stress, and lifestyle changes. Some of the most critical changes for those diagnosed with diabetes involve diet. Many things once enjoyed without second thought become off-limits virtually overnight.
At 5Sparrows we believe people with diabetes can live healthy, fulfilling lives without having to choose between your health goals or the happiness that comes from enjoying your daily rituals. If you want to cut sugar from your diet without giving up all of the sweetness in your life, you're in the right place.
Salted caramel is a great example of something that is typically off-limits for diabetics and others concerned with sugar consumption that we have made accessible and enjoyable. The two main ingredients in salted caramel are butter and sugar. If you are diabetic or have heart disease, these two ingredients are forbidden.
There's a reason the mix of sugar, fat and salt flavors is so addictive. When you eat something sweet, salty or fatty, the brain releases chemicals called endogenous opioids which drive euphoric responses. Salted caramel contains all three of these elements, making it easy to see how easy it is to get hooked on the flavor.
What Makes 5Sparrows Brand Sugar-Free Salted Caramel Unique
With an ultra decadent caramel flavor, our stevia-sweetened salted caramel drink mix is super versatile, FODMAP certified, gluten-free, and has no artificial sweeteners.
That means our salted caramel creamer, you can make your favorite morning rituals just the way you like them—sweet and satisfying—without any of the guilt.
Yes, there are other sugar-free salted caramel options there. You know what we mean—the bottles you see lining the shelves behind the counter at coffee shops. However, those products have a few drawbacks in our eyes:
They are made with sucralose, which has more negative side effects than natural sweeteners like Stevia.
They are liquid, which makes them less versatile to use in recipes outside of beverages.
Because they use sucralose (aka Splenda), they have a distinct "diet" taste that comes along with artificial sweeteners.
When it comes to salted caramel, quality makes all the difference. 5Sparrows Brand Salted Caramel is creamier, and is sweetened naturally using stevia. Stevia is a plant-based sweetener that has the unique qualification of being calorie and sugar-free and isn't absorbed by the body, meaning it doesn't cause blood sugar spikes.
Let's talk about versatility. Because 5Sparrows Brand salted caramel mix is a powder, it opens up the possible uses beyond just lattes and frappes. Here are a few of our favorites to try:
If you love sweet and salty, this will be your new favorite snack. All you need is freshly popped popcorn (we love to make it fresh in a big pot or popcorn machine), and our 5Sparrows Brand Salted Caramel Mix. Sprinkle the mix on the warm popcorn and mix it up. Add as much or as little as you like based on your taste preferences.
Pro tip: if you have a large paper bag or ziploc, shaking the popcorn with the mix works really well to evenly coat the popcorn.
These little bites of joy are going to quickly become your new obsession. They are great as an afternoon snack, healthy dessert, or even a pre-workout pick me up. These salted caramel protein balls are gluten-free, dairy-free, grain-free and sugar-free. That means you get all the flavor and sweetness without any of the guilt (or the sugar crash).
While those snacks are a great way to enjoy our Stevia-Sweetened Salted Caramel Mix, You know we couldn't leave out the beverages, though. Try one of these drinks the next time you're craving something sweet to sip on.
Move over pumpkin spice, salted caramel spiced chai is going to be your new favorite go-to fall drink. The combination of salted caramel and spiced chai makes for a balanced drink you can customize based on your preference. Like a little more spice? Add more chai. More of a sweet tooth? Go a little heavier on the salted caramel.
Healthy Samoa Cookie Protein Shake
Girl Scouts cookies, but make them a healthy, lower-sugar smoothie. This smoothie truly tastes like the original Samoa cookie. Our salted caramel drink mix paired with chocolate protein powder makes for the perfect lower-sugar protein smoothie.
If you are looking to try salted caramel, or have been missing out on your favorite drinks because traditional salted caramel doesn't fit with your health goals, try our 5 Sparrows Brand Salted Caramel mix. It's sweet, satisfying, and smooth. It's no wonder this flavor has quickly become a favorite of our customers.
Whether you enjoy it alone as a stevia coffee creamer or mixed in with one of our other sugar-free drink mixes to create a customizable recipe, you can sip confidently knowing you are enjoying a product that meets your flavor and health expectations.